Developer Blogs
All Posts
Pet Simulator X!
My Restaurant!
BIG Paintball!
Build & Survive!
Other
Pet Simulator X
July 22, 2023
Yeet a Pet Update!
Featuring
Yeet Event
Ahh YEEET! Time to throw your pets in the new Yeet World!
Access the world using the rocket in the Town area.
Collect orbs, open eggs, and unlock upgrades to throw them further!
Yeet World
Entering into the cat-strosphere!
Stand on the mech space station and yeeeeet!
New event goal, leaderboard, orbs, eggs, and more.
Yeet Pets
Take these pets into the sky with their new gizmos.
17 new YEET pets, including the Huge Wild Fire Agony & Huge Stunt Unicorn.
The rarer the yeet pet is, the more it increases your throw distance!
Yeet Eggs
Find the new Yeet Eggs in the Yeet World!
Hatch limited time pets, including the newest huge.
The pets in this egg greatly increase your throw distance.
Yeet Leaderboard Contest
We're rewarding the players with the furthest throws with exclusive pets.
To participate, join the Yeet World and get throwing! The contest ends in 2 weeks.
Top 100: HUGE Stunt Unicorn
Top 300: Exclusive Stunt Unicorn
Top 500: Exclusive Stunt Bobcat
Top 1,000: Exclusive Stunt Chick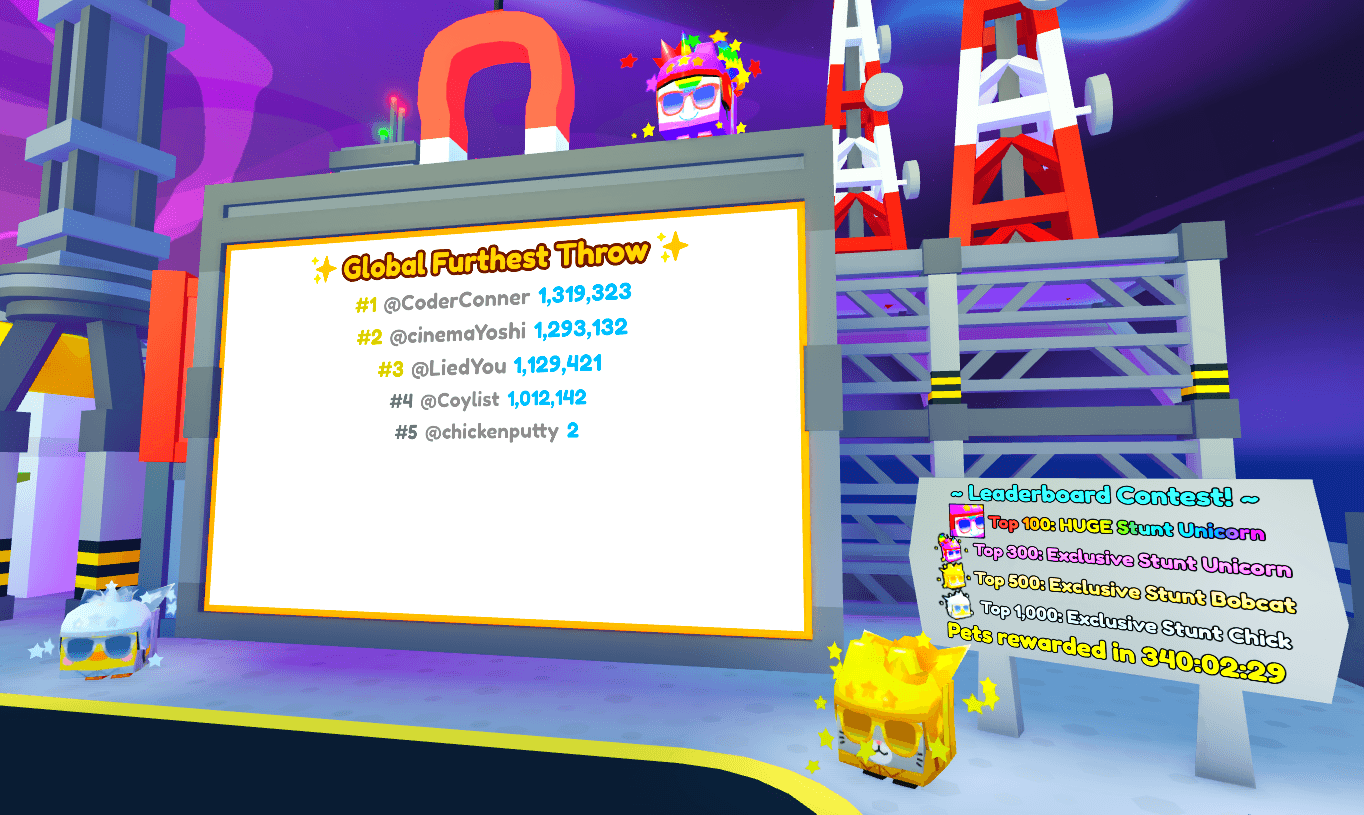 Yeet Upgrades Machine
The Yeet Upgrade Machine can be found in the Yeet World.
This machine and upgrades are only available during the event only!
Yeet Goal
As the server, collect Yeet Orbs to reach the orb goal.
Reaching the goal increases the orb spawn rate by 5x!
Yeet Coin
By throwing your pet, you may earn the new Yeet Coin!
If you're looking to earn more coins, try the upgrade machine to throw even further!
Yeet Orbs
Run around the yeet world to collect Yeet Orbs!
Picking up Yeet Orbs increases your strength for that round.
This strength resets back to your pet's base strength after the round ends.
Collect as many orbs during a round as possible to get the most strength!
2 Year Anniversary Pet
WOO! Pet Simulator X's 2nd year anniversary!
Welcome to the new Party Monkey and the Huge version.
Thank you for playing!
2 Year Anniversary Gift
Another year down! A new Anniversary Gift is here!
2 Year Anniversary Event
There's a GIANT Firework spawning in Dog World to celebrate!
This breakable has the chance to drop the 2 Year Anniversary Gift!
Also, inside are loads of goodies like boosts and diamonds!
This event happens every single hour, starting at 12PM CDT.
Limited time event for the 2 year anniversary!
Cosmic Exclusive Egg
Ready to travel to space? Introducing COSMIC pets!
Featuring the brand new TITANIC Cosmic Pegasus!
2 new HUGE pets - HUGE Cosmic Agony and HUGE Cosmic Axolotl!
These pets have our new animated parallax technology, don't miss out!
Thank you for an awesome 2 years of Pet Simulator X! ~ Preston & PSX Dev Team