Developer Blogs
All Posts

Pet Simulator 99!

Pet Simulator X!

Big Paintball 2!

My Restaurant!

BIG Paintball!

Other
Pet Simulator X
January 21, 2023
Neon Update!
Featuring
Barn Room
Some doodling has been going on behind the scenes!
The secret barn room has been added this week.
See if you can find and enter it!
Hmm, I wonder where the entrance could be…
Barn Egg
Check out the new egg in the barn!
This egg has a brand new secret pet in it! No leaks!
Plus! Increased pet chances…
+ 2x increased chances of the Huge Doodle Cat
+ 3x increased chances of the Secret Doodle Parrot
And, of course, better chances for Doodle Shark, Axolotl, and Monkey!
Giant Barn Chest
Equip your best pets because the new Giant Barn Chest is here!
This chest is super hard to break, but will reward you greatly with lots of Cartoon Coins!
You may find it located in the new Barn Room.
Doodle Hoverboard
Try to get your hands on the newest hoverboard!
The Doodle Hoverboard is hidden somewhere in the Doodle World.
Only obtainable in hardcore mode, so hopefully you're caught up!
Free Gifts Mastery
Added perks to the Free Gifts Mastery!
+ Level 30 - Free Gifts have better luck to hatch a Huge Cupcake Pet!
+ Level 75 - Free Gifts have more luck to hatch a Huge Cupcake Pet!
+ Level 99 - Free Gifts have even better luck to hatch a Huge Cupcake Pet!
Neon Exclusives
Introducing the newest exclusive egg!
This egg features the Titanic Neon Agony!
Also, 2 new huges - Huge Neon Griffin and Huge Neon Cat!
Don't miss out on the chance to hatch these limited edition pets!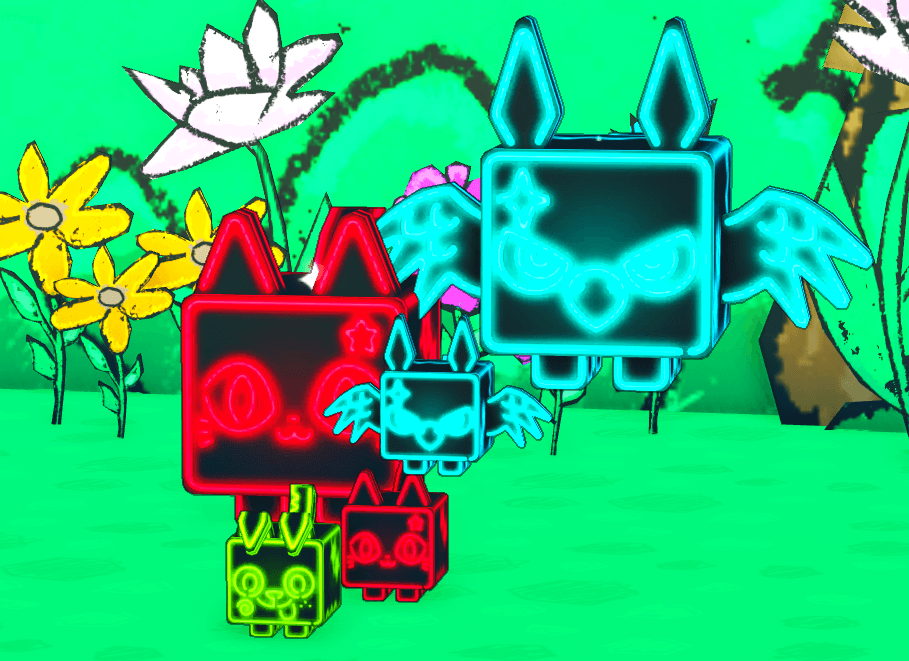 These vibrant pets are sure to light up your inventory!
Changes
Bug Fixes
Lots of miscellaneous bug fixes this week!
+ Buffed Cartoon Coin drops a lot in Hardcore mode.
+ Improved bank to make it much quicker to withdraw and deposit.
+ Fixed the ordering of shiny pets to be first in the inventory.
+ Fixed shiny rainbow titanics not appearing as shiny.
+ Fixed some booths being darker than others.
+ Fixed the rating text overlapping when a trade is disabled or pending.
+ Added a purchase range limit on booths which should help with anti-scripting.
+ Added a 3 second cooldown to purchase a newly listed pet on booth in effort to help fight scams.
See you next week with the Doodle expansion! ~ Preston & PSX Dev Team