Developer Blogs
All Posts
Pet Simulator X!
My Restaurant!
BIG Paintball!
Build & Survive!
Other
Pet Simulator X
May 13, 2023
Lucky Block World Update!
Featuring
Lucky Block World
Feeling lucky? Head over to the Lucky Block World!
Access the world using the cannon in the Town area.
Break some lucky blocks and see if you can get lucky!
Lucky Block Pets
From lucky blocks to lucky pets! Introducing new CHROMA technology!
Chroma makes pets hatch as random colors. There is a chance to get common or rare colors.
2 new Chroma HUGE pets with 6 colors each, plus 3 Lucki pets have been added!
Lucky Block Egg
In the Lucky Block World, find the new Lucky Block Eggs!
Hatch limited time pets, including the newest huge and chroma pets.
This egg is perfect for you to catch up with friends.
Lucky Block Goal
Wanting to boost your luck?
As the server, break Lucky Blocks to reach the Lucky Block Goal.
Reaching the goal increases chances for the Lucky Block Egg.
Lucky Block Upgrades
Not so lucky? Try some player upgrades!
The Lucky Block Upgrade Machine can be found in the Lucky World.
This machine and upgrades are only available during the event only!
Lucky Block Currency
By breaking lucky blocks, you may earn the new Lucky Coin!
If you're looking for the most coins, find the Giant Rainbow Lucky Block for even more!
Trading Plaza Terminal
Track down pets you've been looking to buy!
To get started, head over to the new Trading Terminal Machine.
Press a pet to teleport to a Trading Plaza where it is listed.
This should make it much easier to find pets you're looking for!
New Hype Gift
HYPE! The newest Hype Gift is here!
Welcome to the new Huge Penguin!
And the Party Squirrel, Party Shark, and Party Penguin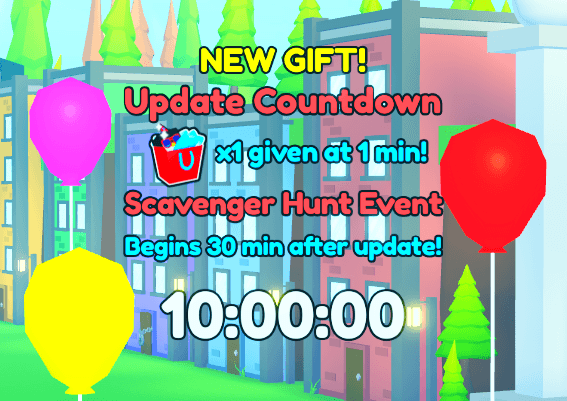 2x Luck & Coin Event
Next week, from the 20th to 27th, there will be a 2x Luck and Coin week!
This is in preparation for the new world! Happy hatching!
Changes
Bi-Weekly Updates
For the past 7 months, we've provided substantial updates every single week.
The development team has had an amazing time doing this for the community.
Community feedback has been great, but some feel overwhelmed with the amount of content.
After careful consideration, we've decided to transition to bi-weekly updates.
With the new schedule, it will let you have time to catch up and not be so rushed.
It will allow us to develop more well thought out mechanics and features!
This means more refined, polished, and impactful content.
We have some exciting plans in store for this summer, see you in 2 weeks!
Removed Cinco de Mayo Event
The party is over! We hope you had a great Cinco de Mayo event!
The piñatas, maze, and egg are no longer available.
Minor Additions
- Added global Titanic hatch notifications
- Added Huge Golden Safari Dog icon
- Fixed VIP purchase sign saying Owned when it was Unowned
Hope you have some lucky hatches for this lucky update! ~ Preston & PSX Dev Team