Developer Blogs
All Posts
Pet Simulator X!
My Restaurant!
BIG Paintball!
Build & Survive!
Other
Pet Simulator X
October 22, 2022
Added 
Halloween Event
Things just got spoOoOoky…
The Halloween Event from last year has returned! With a few twists...
Enter the haunted house… if you dare…
Candy Currency
Halloween Candy has made a return!
Earn candy in any world, by breaking anything!
Candy can also be earned in Hardcore - so you can hatch HC Halloween pets!
Halloween Pets & Eggs
The Pumpkin, Eerie, and Cursed eggs have made a limited return!
Eggs hatched with Hardcore Candy will give you HC pets as well!
Hatch them while you can!
Halloween Quests (Hardcore)
Complete 4 quests to earn free rewards!
The final quest will unlock the Pumpkin Cat Hoverboard!
(To participate, you must be in Hardcore mode.)
Event Huge Pets
Feeling lucky?
The Cursed Egg has a very small chance to drop some event huge pets!
The Huge Pumpkin Cat (returning from last year) and the Huge Grim Reaper!
I said the Huge Pumpkin Cat was originally a one-time thing… but realized after the fact. Instead, let's make it a yearly tradition. 
Happy mistakes :)
Pumpkin Cat Hoverboard
Only obtainable during the event!
Halloween Gifts
For a limited time, Halloween Gifts can be bought from the Exclusive Shop!
You can also get one for FREE, just for playing an hour. Enjoy!
Giant Pumpkins
Giant Pumpkins will spawn around the map yielding a TON of candy!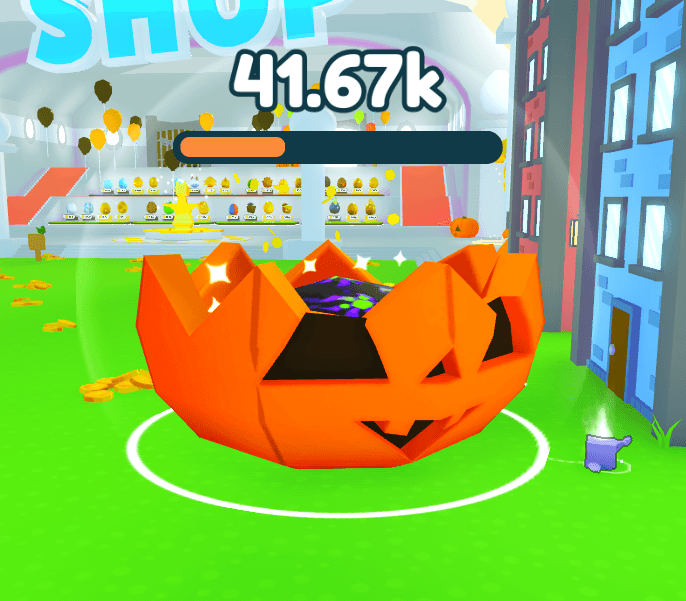 Exclusive Elemental Egg
The 3rd exclusive egg is now available for a limited time! 
Check out all of these elemental pets. My favorite is definitely the Inferno Cat.
Happy Halloween!