Developer Blogs
All Posts
Pet Simulator X!
My Restaurant!
BIG Paintball!
Build & Survive!
Other
Pet Simulator X
November 13, 2021
Added
Alien Lab + Alien Forest
Two new areas have been added to the Tech World! The Alien Lab & the Alien Forest. 
Totally free-handed these. I think they turned out pretty sick :)
Giant Alien Chest
What's a new area without another Giant Chest? This chest carries a pretty hefty price-tag, though. 
You can access it through the new Alien Forest area. It also has a teleport.
Aliens (18 New Pets)
Aliens have invaded Pet Simulator X! Lots of furry little friends have been added including 2 new mythicals, & 3 new exclusives!
Three New Eggs
New pets = new eggs! The Alien Egg, Martian Egg, and Planet Egg have been introduced, including their gold variants. 
Prices will be adjusted over the weekend. Happy hatching!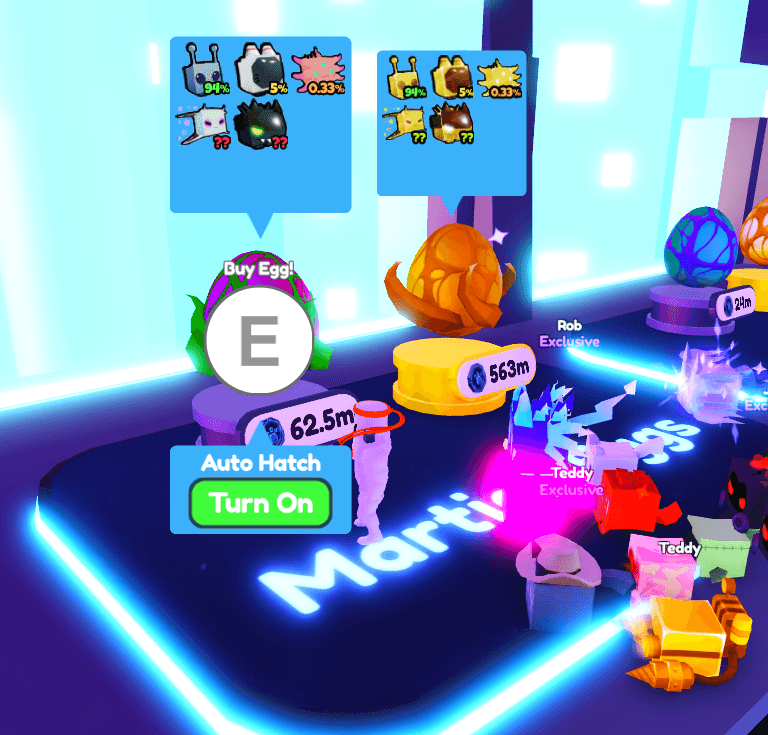 NFTs (Huge Pegasus Pets)
We just launched experimental Pet Simulator X NFTs! We are kicking it off with a dozen Huge Pegasus Pets - the only 12 in the world. 
Owners of NFTs can link their MetaMask wallet to their UserId here and use the pets in-game immediately! 
The starting auction ends on 11/16 at 2pm CST. You can bid here.
Sounds cool.. but what are NFTs?
NFTs are like the Pets in your inventory. The difference? You actually own them. 
Yeah sure, but what does that actually mean? I own my pets already, right?
Sort of. Not really.
NFTs are decentralized. That's a fancy word for it's yours. I can't take them away from you. 
They are yours. You can do whatever you want with them.
Like all emerging tech though, NFTs have some problems, but also future solutions. 
I encourage you to do your own research and look into NFTs with an unbiased perspective. 
There is a lot of untapped potential in this space. Also, please bear in mind: this is an experiment. 
We're just having fun and seeing what happens. There is no guarantee we will drop more of these in the future. 
These might be the only ones to ever mint. Excited to see what happens!
Changes
Halloween Event Over
The Halloween Event has ended! Halloween Upgrades have been saved and carried over. I'll add some way to view them in the near future.
Auto Delete Options
You can now toggle off any rarity using Auto Delete! Not sure why this was requested so much.. but it was easy to add, so why not?
Diamond Cap Increase
Diamond cap has been increased from 1bn to 25bn! This is in anticipation for something really, really cool I'm working on. Stay tuned.
Interface Upgrades
Continued to make cosmetic and QOL changes to the interface to give the best experience as possible to all platforms. 
Let me know what you think!
Tech World Changes
The lighting and skybox has been adjusted in the Tech World. Also made some other misc. visual changes.
Chemical + Lab Eggs
These eggs have been moved over to the new Alien Lab area (previously Steampunk Chest).
Balancing
I made a bunch of balancing adjustments throughout the game. Let me know if anything feels totally off.